Cameras for Classrooms, Online Classes and Lecture Recording
Stream and record lectures and lessons in 4K with Honey Optics cameras in the classroom. Our affordable PTZ cameras are ideal for online classes and lecture recording. Overnight shipping and a 60-day return policy make our cameras a smart investment for your educational institution.
Learn More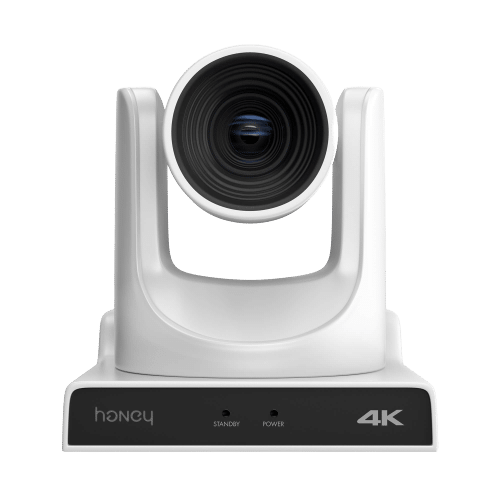 Solutions for Security and Digital Recording in Classrooms
Honey Optics classroom cameras allow universities and other educational institutions to record and stream lectures with the touch of a button.
Pan, tilt, zoom and record or stream in 4K with crystal-clear images thanks to the Sony CMOS sensor.
Buy NOW
The Benefits Of Lecture Capture Systems
There are many advantages to using a Honey Optics webcam for teaching:

Easy Accessibility
Video lectures allow students to view the course material anytime, anywhere. In full remote learning situations, students are free to learn at home whenever it is most convenient for them. In hybrid classrooms/remote classrooms, students have the ability to view lectures at home and come to class prepared with questions.

Students Learn at Their Own Pace
Because the course material is available anytime, students have the freedom to replay lectures. In addition, having the option to rewatch video lectures means that students can really immerse themselves in the subject and absorb the information.

Visual Learning
An estimated 65% of people are visual learners. Video lectures can help students better absorb information, especially when paired with graphics, images, charts and other visual aids.

Better Engagement
Video content keeps students engaged in the lesson. It's as if they are right there in the classroom with the instructor and other students. Other engagement tools, such as quizzes, can further improve engagement.
With the ability to stream and record in HD, our cameras can enhance the online learning experience for students of all ages.
FAQ
Frequently asked questions
How To Choose The Best Camera For Teaching Online
How do you find the best lecture capture solutions for your online classroom? There are several important things to consider, including:

Classroom Size
How big is your classroom space or lecture hall? Depending on the setup of your space, you may need a camera with 20x zoom to ensure that the instructor or lecturer is clearly visible. For smaller spaces our 12x zoom PTZ cameras may be a great fit.

Output
Which output will you be using? You will need a camera that supports your preferred method. Honey Optics cameras can output to HDMI, NDI, SDI or IP.

Stream or Record
Do you plan to stream your content, record it, or do you want to do both? Our cameras can stream or record, making them a versatile tool for your classroom.

Budget
You likely have a budget that you need to consider when choosing a camera for your online classes. We offer a wide range of cameras to meet any school's budget.
Honey Optics cameras can take your online classroom to the next level. Record or stream in 4K with ease and get peace of mind that your investment is backed by a 5-year warranty.