Do you want to take your live streams to the next level? With free PTZ IP camera software and the right camera setup, you can create professional streams without breaking the bank.
But which software is the best? Let's take a closer look at some of the best free software options for PTZ IP cameras.
OBS Studio is one of the most popular free PTZ IP camera software options out there. OBS stands for Open Broadcaster Software, and just as its name suggests, this software is open source. It's available on Windows, macOS and Linux.
You can also use the best OBS widgets for live streaming with this software.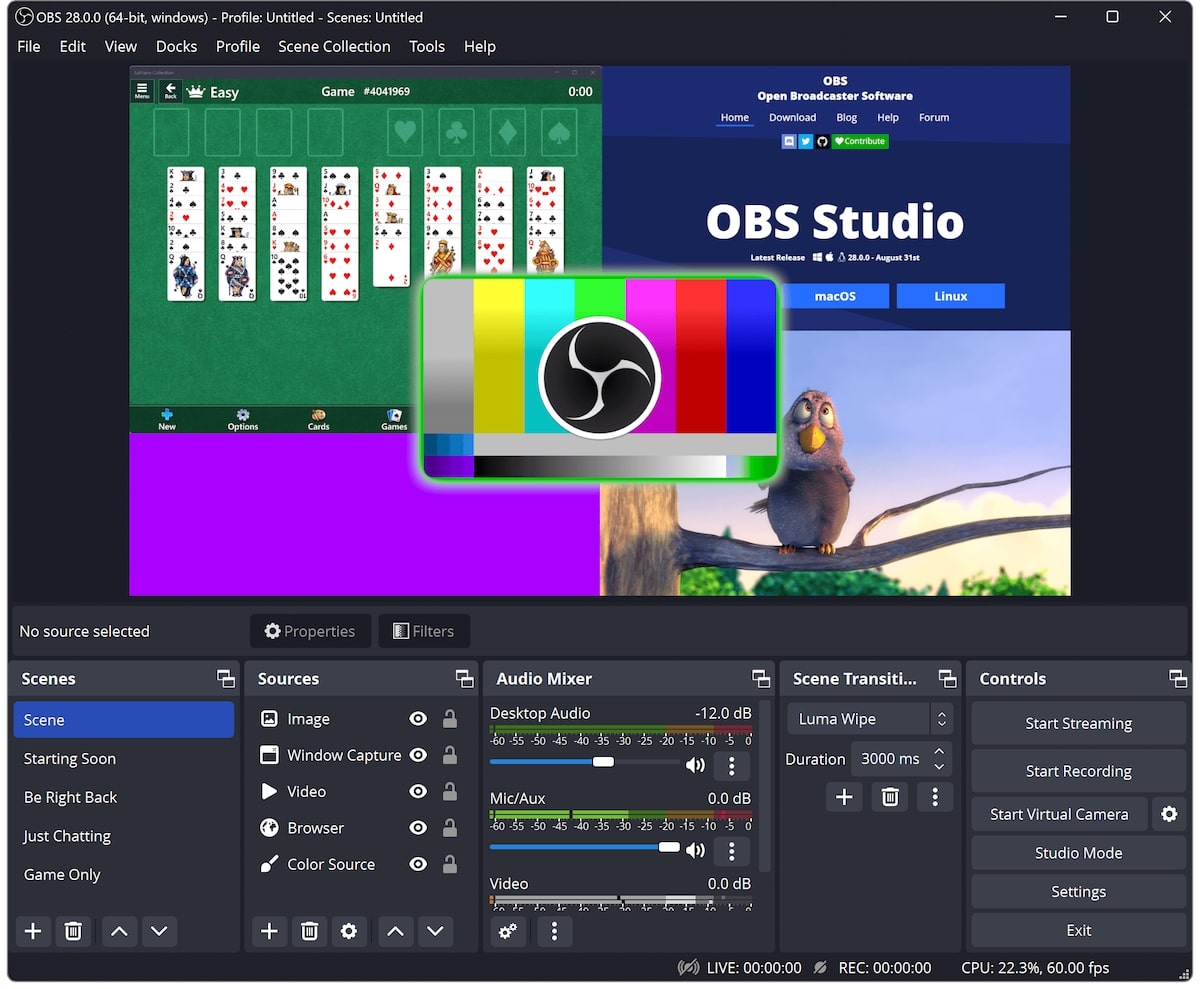 Overview and Key Features
OBS Studio offers high-performance video and audio capturing and mixing. Users can create a variety of scenes made from multiple sources, including images, window captures, webcams, text and more.
With OBS Studio, you can create an unlimited number of scenes and switch between them using custom transitions. You can also:
Add your own stinger video files
Preview scenes and sources before they go live
Capture and record your screen
Manage files
Collaborate with others to create more professional productions
Streamers who want to advance their live streaming turn to OBS Studio because it allows for creative freedom and has a user-friendly interface that makes it easy to get started.
Installation and Setup Process
Installing and setting up OBS Studio is quick and easy. The software is available for Windows, Mac and Linux systems.
Simply download the installer for your operating system, and follow the prompts to complete the process. You also have multiple ways to download the software, including BitTorrent, Steam and GitHub.
For Linux users, OBS Studio is distributed as a PPA and a Flatpak.
User Interface and Control
OBS Studio has a user-friendly interface and simple controls that allow you to live stream with ease.
Users also can customize the software's UI to complement their workflow. Browser Docks allow you to incorporate new interface elements into the UI via web browser sources.
For example, you can add a new panel to display the chat from your live stream.
For PTZ camera users, Browser Docks are especially useful because you can add your camera's controls to the interface.
You can also create scene layouts and save them as templates to use whenever you stream. Churches, for example, can simply update each segment every week, and when Sunday arrives, they can just start streaming with minimal prep work.
There's a lot to love about the interface and controls of OBS Studio, which is another reason it's such a popular software option for streamers.
Additional Features and Integration
OBS Studio is an open-source software program, so there's no shortage of integrations available. These integrations come in the form of plugins, which extend the functionality of the software.
Overall, OBS Studio is a great option for streamers who want to take their live streams to the next level. Along with a user-friendly interface and a vast array of plugins, the software also has an active community that offers advice and support to other users.
Streamlabs OBS is another popular free PTZ IP camera software that's designed to make streaming as easy as possible.
Along with live streaming features, Streamlabs has a suite of creator tools that help users expand their reach. You also have more options on where and how you stream:
While there is no dedicated PTZ camera app, Streamlabs does offer the freedom and flexibility to stream from whichever device you wish.
Overview and Key Features
The Streamlabs desktop solution makes it easy to stream for free and build your brand along the way.
With Streamlabs, you can capture your:
Webcam
Desktop
Games
Microphone
Music
You can also create custom scenes for starting your stream, ending your stream and taking breaks.
Other features of Streamlabs include:
Collab Cam, which allows you to collaborate with other creators live
Overlay themes to make your streams more professional
Personalized desktop layouts with customizable tabs for video, chat, audio, events and more
Custom alerts for new followers, subscribers and more
Customizable widgets with tip trackers, interactive games, polls and more
Streamlabs can be used for a variety of applications, whether you're streaming church services, lectures or your latest podcast.
Installation and Setup Process
Setting up Streamlabs is an easy process. There's a free version of the software that's great for streamers of all kinds. The paid tier isn't necessary unless you need more storage or want to collaborate with multiple people at once.
The desktop client is available for Windows devices, but the mobile solution is available for both Android and Apple devices.
User Interface and Control
Streamlabs has a user-friendly interface and simple control options that make it easy for anyone to start streaming.
Workspaces are customizable, so you can move widgets and tabs wherever you like on the screen.
Additional Features and Integration
Streamlabs offers lots of options when it comes to integration, and there are many plugins and widgets available for use with your streams.
Streamlabs is one of the top free streaming software solutions for PTZ IP cameras and a great option for anyone wanting to make their streams more professional.
OneStream is "free PTZ IP camera software" with tier options to add features, social media platforms and other great features. You can use any pan tilt zoom IP camera on the platform because it runs on the cloud.
Overview and Key Features
OneStream is one of the most feature-rich solutions for streaming on a PTZ camera. The free tier offers:
Two social accounts
Live streaming
Multicasting
6 participant invites
720p resolution
Screen sharing
One-hour live session
1GB of direct uploaded
10-minute camera recording and screen capture
Event scheduling
Third-party RTMP
Users on the free tier will have OneStream branding on their stream, but you can upgrade for as little as $10 per month.
Installation and Setup Process
OneStream is cloud-based, so there's no need for complex software installation. You can be up and running on the platform in minutes, which is a major bonus for anyone who is testing out different solutions to find the right one for their stream.
If you want to get started on OneStream, follow these steps:
Sign up
Choose your free plan
Connect socials
Select platforms
You can run OneStream from your browser or directly through mobile.
User Interface and Control
OneStream's user interface and control are sleek and intuitive. Incorporating multiple data streams into one makes it a single, powerful solution for all of your streaming needs. The dashboard, especially if you have a tier that offers analytics, provides:
Reports and visuals
Easy data reporting
Intuitive navigation and icons allow you to get started with your first stream quickly and give you complete control over your production.
Additional Features and Integration
OneStream has add-on options for adding additional social platforms to stream to and integrates 40+ networks into their solution. You can choose all of the most popular networks:
Facebook
Twitter
Instagram
YouTube
Third-party RTMP sourcing also allows you to use streaming tools that you already love, including Zoom, OBS, XSplit, Wirecast and others.
OneStream is one of the best PTZ camera software options that allows users to leverage the power of their camera's pan-tilt-zoom functions and begin streaming on 40+ platforms. You don't even need to install software to get started.

Comparing and Choosing the Right Free PTZ IP Camera Software
Free PTZ IP camera software is great because it allows you to test-drive the latest solutions and see which one you like best. Even when comparing different options, you might find that there are certain features you don't like and would rather choose an option with a better user interface.
If you don't know what to look for in your software, consider comparing the features below.
Feature Comparison
Each software suite has its own set of unique features that make using it fun and exciting for users. You'll find the option to control cameras and use the basic pan-tilt-zoom functions of the camera.
Users will want to look through the features they need or may want and compare them.
However, you'll want to consider:
Multicast options to stream to multiple platforms
Pre-recorded streaming options
RTMP sourcing and integrations
Captions and subtitles
Team management
Cloud integration
Playlist streaming
Much more
Spend time trying each platform before streaming and familiarizing yourself with the user interface.
Compatibility and System Requirements
How do IP cameras work? They connect back to your network, allowing you to stream content. You can use a variety of operating systems with your software, but they must be compatible with your operating system.
Your system also needs to meet the minimum system requirements of the software.
For example, Streamlabs has solutions for consoles, desktops, smartphones and other devices that you may stream from.
Cloud solutions negate these requirements and allow you to:
Run the software on any system
Run the software with very minimal system requirements aside from an Internet connection.
User Feedback and Reviews
Finally, it's worth seeing what streamers think of a platform and how it has worked for others. Reviews and feedback can help you narrow down your choices and enlighten you on key issues or concerns that you may have never known about.
Summary
Free PTZ IP camera software allows you to get started with live streaming using the world's leading platforms. You'll unlock powerful features that allow you to multicast, connect to social accounts and more.
While paid versions of these solutions often provide greater features and functionality, the free version is a great starting point and will help you build a following.