Learning how to use PTZ controller is an important step in getting the most out of your PTZ cameras. Controllers give you more flexibility and control when using your PTZ camera. But what are PTZ controllers? How do you set them up and use them?
What Is A PTZ Controller?
A PTZ controller is a separate device that can be set up to control your PTZ camera's features and pan-tilt-zoom functions.
Typically, these controllers have:
Joysticks to control the camera's movement.
Buttons for accessing presets or switching between cameras.
Some controllers are simple, while others have a plethora of controls and buttons to manage your camera setup.
We're going to discuss the setup process before discussing the options that you'll find in a standard controller.
How Do I Set Up PTZ Camera Controller?
While PTZ camera controllers each have their own configuration, most follow similar setup processes.
Here's how it works:
The PTZ controller connects to your network via Ethernet.
Your PTZ cameras also connect to the network.
Once all of your units are connected to the same network, you can begin assigning cameras to your PTZ controller. This is typically done through the interface on the controller itself.
You will need to go through the process of choosing the right protocol for your cameras, entering their IP addresses and other configurations to complete the setup process.
Make sure that you assign each camera that you connect to a different camera setting (Cam 1, Cam 2, Cam 3, etc.)
Once you have everything configured, take your controller for a test drive to see if it works with your cameras.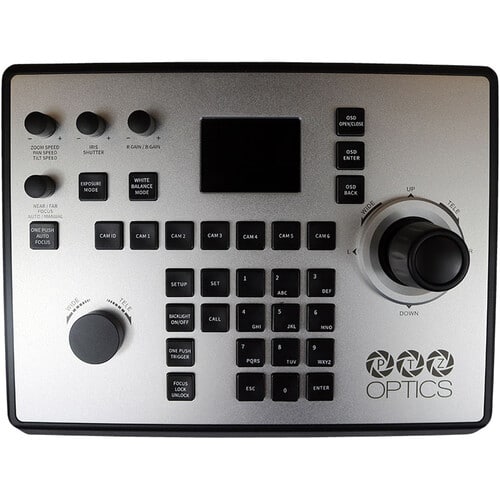 How To Use PTZ Controller?
Learning how to control PTZ camera requires you to know how to use a controller. A controller is similar to what many people envision: a joystick-like control. You can use these joysticks to control multiple functions and features of your camera, including:
Brightness
Powering
Switching cameras
Focus
Presets
Zoom
Pan
Tilt
Joysticks also include buttons and knobs, both of which allow you to have greater control over your camera. However, you will need to attach the controller to the camera, which is often done using either a LAN or serial port – depending on the model chosen
Controllers offer a lot of control and power, but you may also want to connect to your PC for greater control.
Wireless control options are also available, all of which must be considered to maximize the ease of control and production value.
PTZ controllers are powerful additions to your camera setup, and you should learn to use them properly. The right controller will add to your production value by allowing for rapid adjustments to pan-tilt-zoom and may even allow you to toggle through presets.
Controllers act as large remotes, with buttons and knobs that allow you to bring your camera control to another level. Thank you for reading our article "How To Use PTZ Controller".